It's Girl Scout cookie season! This year, one of the bakeries (ABC Bakery) that makes Girl Scout cookies starting making Thin Mints, Peanut Butter Patties, Lemonades, and Thanks-a-lot cookies vegan. That means I bought cookies from the Girls Scouts for the first time in almost a decade. They are every bit as good as I remember, especially Thin Mints and these Thin Mint Cupcakes will have you thinking that they can't possibly be vegan cupcakes.
Vegan Cupcakes: Thin Mint Cupcakes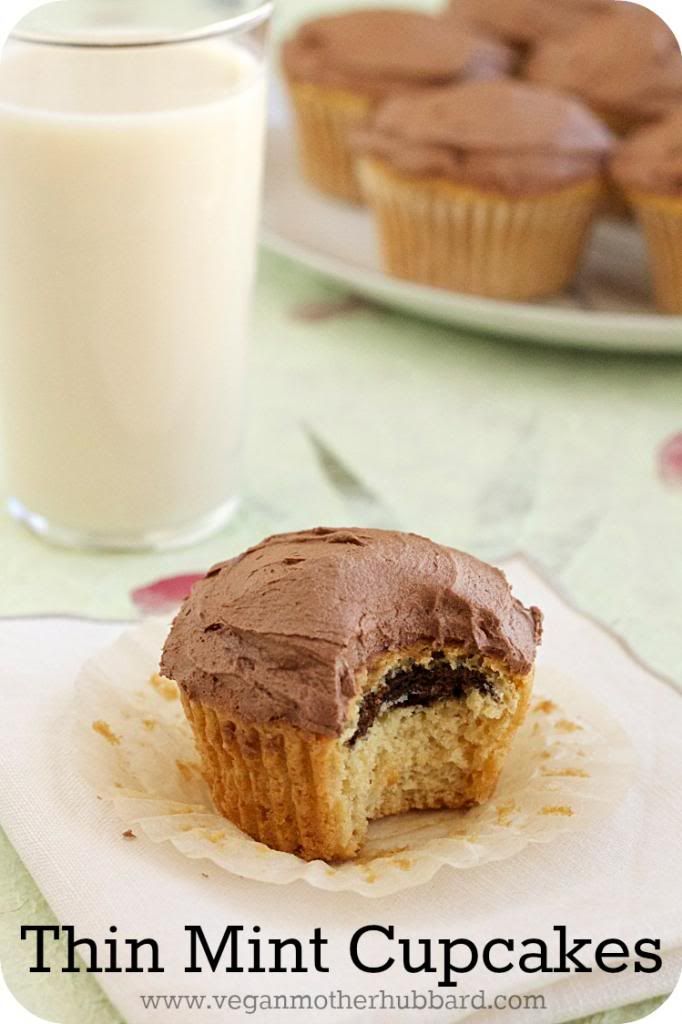 After eating more cookies than I care to admit, I set to work figuring out how to work the tasty cookies into a couple of recipes. My first recipe is for ultra minty Thin Mint Cupcakes. They are mint on top of mint. I can't get enough.
I have baked lots of cupcakes in my time. I've made mint chocolate chip cupcakes. I've made cupcakes with a chocolate cookie bottom. And recently, I finally figured out a vegan vanilla cupcake that I actually like. These Thin Mint cupcakes have bits of all those other recipes. They feature minty cake that is a take on my vanilla cupcake recipe. The hidden Thin Mint cookie is kind of like my cookie bottom cupcakes. Creamy, fluffy chocolate mint buttercream ups the ante first set by my mint chocolate chip recipe. I can't wait for you to try them.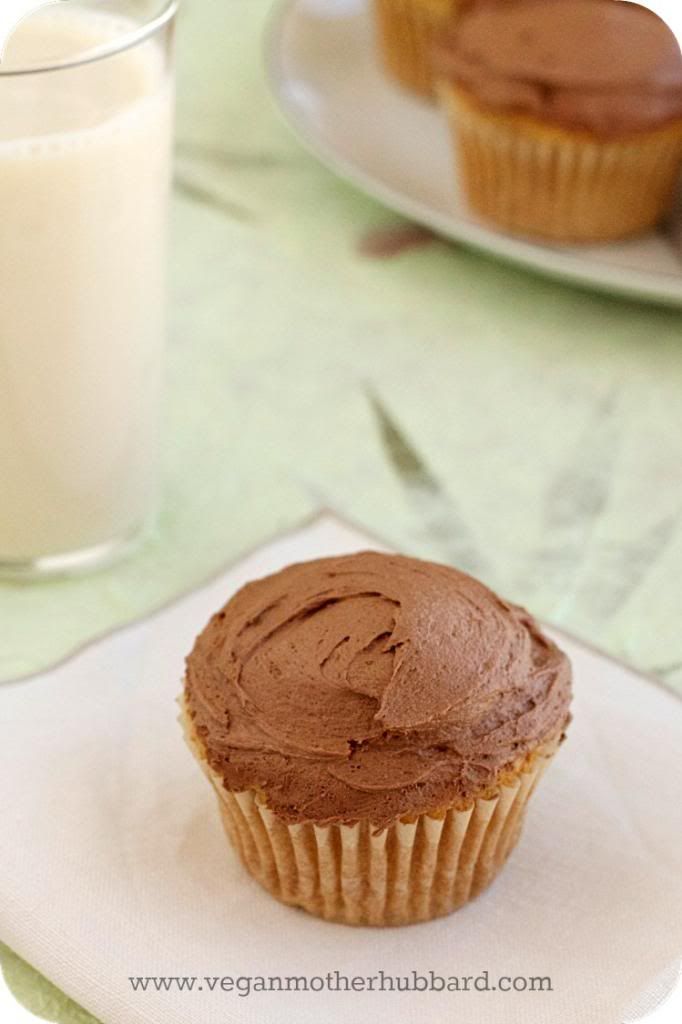 Vegan Thin Mint Cupcakes
Author:
Prep time:
Cook time:
Total time:
A delicious vegan cupcake recipe inspired by Thin Mint Cookies!
Ingredients
Thin Mint Cupcakes
1 cup plain or vanilla non-dairy milk
⅓ cup non-dairy sour cream
2 tbsp peppermint schnapps (or an additional 2 tbsp non-dairy milk and an additional 1 tsp peppermint extract)
1 tbsp canola oil
1 tsp peppermint extract
2 cups all purpose flour
1 ¼ cups granulated sugar
½ tsp baking powder
½ tsp baking soda
½ tsp kosher salt
12 Thin Mint cookies
Chocolate Mint Buttercream
¼ cup vegan butter
¼ cup non-hydrogenated vegetable shortening
3 cups powdered sugar
½ cup unsweetened cocoa powder
4 plain or vanilla non-dairy milk
3 tbsp peppermint schnapps (or an additional 3 tbsp non-dairy milk and an additional 1 ½ tsp peppermint extract)
½ tsp peppermint extract
pinch of salt
Instructions
Thin Mint Cupcakes
Preheat oven to 350 degrees. Line a cupcake tin with 12 cupcake papers.
In a large mixing bowl, vigorously whisk together the milk, sour cream, schnapps, oil, and extract.
In a medium sized mixing bowl, stir the flour, sugar, baking powder, baking soda, and salt together.
Use a wooden spoon or rubber spatula to gently stir the dry ingredients into the wet ingredients. Stir until the ingredients are well incorporated, but don't over mix.
Spoon about 2 tablespoons of batter into each cupcake cup. Add a Thin Mint cookie to each. Then divide the remaining batter over the top of the cookies.
Bake for about 35 minutes, or until risen and golden brown.
Allow the cupcakes to cool completely, then frost with chocolate mint buttercream.
Chocolate Mint Buttercream
Using an electric mix and large mixing bowl (or stand mixer), beat the butter and shortening, until well incorporated.
In a separate bowl, whisk the sugar and cocoa together.
Slowly beat in half the sugar and cocoa mixture. When mostly mixed, add the remaining sugar and cocoa. The mixture will get quite stiff and crumbly.
Combine the milk, schnapps, and extract.
Slowly beat in the liquid, 1 tablespoon at a time. Make sure to incorporate entirely, before adding the next tablespoon.
When all the ingredients are combined, increase the mixer speed to high. Beat for an additional 8-10 minutes, until the frosting is light in both texture and color.
Pipe or spread onto cupcakes.
Sandra Kohlmann is an art major turned food and mom blogger. She's married to her college sweetheart, Steve. Together they are raising their kids to be vegan superheroes; galavanting around Wisconsin to see waterfalls, forests, and the world's largest penny; and watching old science fiction on Netflix. You can usually find Sandra in the kitchen, up to her elbows in cooking and baking projects. Or check her out on:
Google+ / Pinterest / Instagram / Facebook / Twitter