It's Whimsy Wednesday!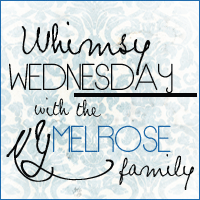 Last week was an absolutely amazing week!  Thank you all so much for sharing with me!  I'm back to school in two weeks so I'm starting to get everything squared away for the beginning of school year.  If you are looking to sponsor someone in September, I would absolutely love to have you.  Since my switch to WordPress and my jumping onto the G+ bandwagon, which wasn't even a full two week ago I've had over 9,000 pageviews.  My philosophy in having sponsors is to help you grow with my growing audience.  You can find my sponsor info here.  If you have any questions, please feel free to email me at russej10@gmail.com.  Now, let's celebrate the amazing projects shared last week!
Mackenzie from Cheerios and Lattes gave us a great strategy to use at home to aid our preschoolers in learning to write with her Play to Write-Write to Read Fall Series.  As a reading specialist, I was thrilled to see the inclusion of a sensory gel pad in Mackenzie's series.
I immediately read and reread the Be Radiant post shared by Maria from Agape Love Designs.  I so love a good eye makeup tutorial!
I fell in love with this gorgeous Baby's First Watercolor by Nancy from Small Things with Love.  Isn't it gorgeous?!  The best part is that her son did all of the work.  You have to zip over to find out how.
I was blown away by this Disney's Up Lunch by Amy from Creative Kids Snacks.  You have to check out her site.  She has the most amazing snacks I've ever seen!
Heading back to school is always hard for me, but if I can go into it knowing I could share something like these Truffula Trees by Jodie from Jodie Fitz with my students, it makes it a little bit easier.
Erin from Crafty Biggers shared her Scrabble Wall Art, which included every letter in the box!  My favorite part about this project was the Erin made sure that every word had sentimental value.
I'm a coffee lover and a chocolate fiend.  So this recipe for Pots de Creme by Darby from Life with The Hawleys hit the spot for me.
If you were featured, please feel free to grab a button from my sidebar.  I am super excited that you all stopped by to share your whimsies with little 'ol me.
The Rules:
1. Follow me through Google+ or Bloglovin'. I'd adore you forever and forever if you liked me on Facebook and Twitter and I'll be posting my favorites throughout the week.  I'm also a pinning fiend.




2. Please do not link parties or shops. Everything else is accepted.


3. Please grab my button and either display it with the post you are linking up or under your list of parties.  You can find my button over in the sidebar.
4. Please make sure to visit at least ONE post for each link you submit. Everyone loves a sweet comment!