Hey there! This is Heather from Totally Tailgates! Jenny invited me over to share with you one of family's favorite "company is coming" casseroles. I am thrilled to be here at The Melrose Family to tell you how incredibly easy it is to wow your friends with a decadent Lobster Mac & Cheese casserole!
Not every day is game day, and at Totally Tailgates we enjoy sharing incredible meals with our family and friends all year long. When company is headed to our home, I almost always lean towards a casserole as the centerpiece entree. Casseroles are so very versatile and usually a fairly economical way to serve a crowd. Pair a good casserole with a fresh salad, hot bread, and iced tea and you have a full dinner!
Lobster Mac & Cheese is one of those meals your friends & family will think you spent hours in the kitchen in preparing. And, it just sounds expensive, right? Wrong. Wrong. Wrong. This recipe is easy to prepare and more budget friendly than one would expect!
Lobster Mac & Cheese
Let's get the game started! Your main players on the field are frozen lobster tails and six cups cooked macaroni. I purchased this pack of lobster tails at Wal-Mart for around $12. Only one is used in Lobster Mac & Cheese, so I spent about $4 on a delectable piece of seafood for the whole casserole. 🙂 I baked the other two tails, and used them for salads….we love suppertime salads on hectic school days or hot summer nights.
Next, get your three cheeses ready: cheddar, Gruyere, and Parmesan. I know you are wondering if I actually used powdery parm from that green bottle that our mama's all used….and yes…yes, I did! Feel free to use freshly grated Parmesan cheese if you wish. It will taste wonderful either way. I used what I had on hand, just like my mama used to do! Since the Gruyere is a little on the pricier side, the canned Parmesan helps keep your budget on track, too.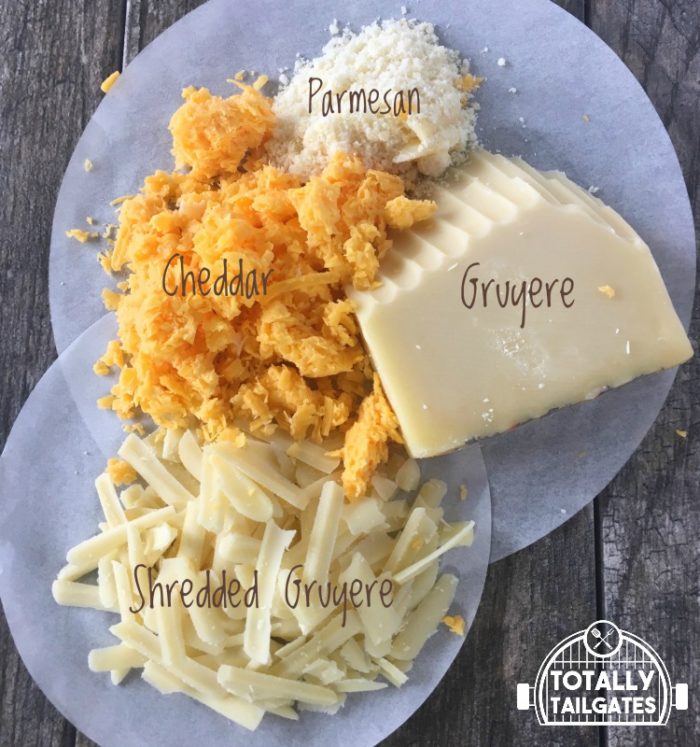 How Cook The Lobster Tails
Spray a glass baking dish with non-stick cooking spray, and place thawed lobster tails in the dish. I dotted the meat in the tails with tiny pats of butter, which is totally optional. I never miss a chance to introduce seafood to butter, so I was literally on autopilot during the preparation phase! Cook until the shell of the tail is a pretty shade of red.
Coarsely chop Mr. Lobster, and set aside. We'll come back to him in a sec…..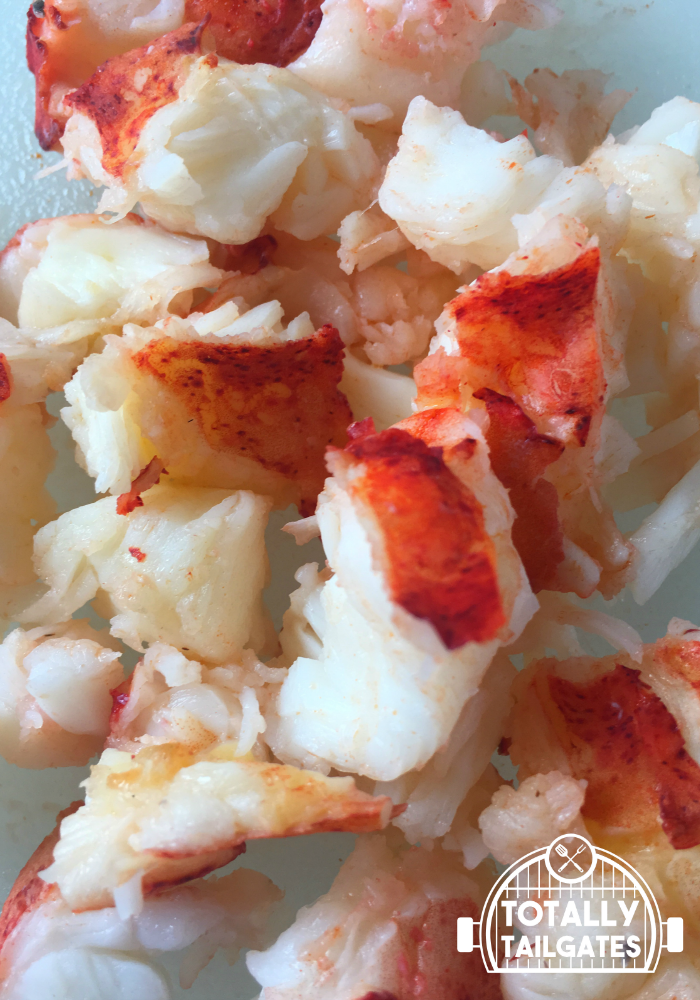 How To Make The Cheese Sauce For Lobster Mac & Cheese
Meanwhile, you will make a roux which serves as the basis for the cheese sauce. A roux is simply a reduction of butter and flour which is blended over heat until thickened.
So, melt the butter, whisk in the flour and then the milk. You'll want to stir the mixture continuously until it is thick and bubbly. This takes a while, so if you are stirring and wondering "how long does Heather think this is going to take?!?" just keep stirring. I'm with ya.
After the mixture is bubbly (and your home is smelling great), and the Parmesan and spices. Voila! A homemade cheese sauce!
Preparing The Lobster Mac & Cheese
Now, we are in the homestretch! Gently fold the prepared macaroni noodles into the cheese sauce.
Now, it is time to get back to Mr. Lobster! First, spray a casserole dish with non-stick spray. Add a layer of noodles with the cheese sauce, and top with the lobster meat. Add shredded cheddar and Gruyere cheeses. Bake until hot and bubbly! For an authentic coastal meal, pair your Lobster Mac & Cheese with some Southern Style Hushpuppies!
Side note: This recipe makes 6-8 servings. Since I am an empty-nester now, I made three smaller portions for two. So, if the photo on the left looks like a small portion, it actually is smaller! You can also prepare Lobster Mac and Cheese in a larger 9×13 baking dish. If you have left overs, you can make Country Fair Style Fried Mac & Cheese Bites! I used my Lobster Mac & Cheese recipe for the fried bite….they are SO good!
Lobster Mac and Cheese Casserole
Ingredients
1

lobster tail (thawed)

4

tbls

butter

4

tbls

flour

2

cups

whole milk

3

oz

Parmesan cheese, shredded or grated

1/4

tsp

salt

1/4

tsp

ground black pepper

dash

cayenne pepper (optional)

4

oz

Gruyere cheese (shredded)

4

oz

cheddar cheese (shredded)
Instructions
Preheat oven to 400 degrees. Spray glass baking dish with non-stick spray. Placed thawed lobster tail in dish and bake until meat is done and the lobster tail turns red.

Remove lobster tail from oven, let cool slightly then coarsely chop lobster meat. Set aside. Turn oven down to 350 degrees.

In a large Dutch oven, melt butter. Add flour and whisk until smooth. Slowly add milk, stirring continuously over medium heat. Continue stirring until mixture is thick and bubbly.

Add Parmesan cheese and spices. Stir well, and gently fold cooked macaroni noodles into the cheese sauce. Stir until combined.

Pour noodles into a large casserole dish (or several smaller ones) that have been coated in non-stick spray.

Add chopped lobster meat on top of the noodles, followed by the Gruyere and cheddar cheeses. Cover and bake at 350 until hot and bubbly. You may remove the cover during the last 5 minutes of baking.
I've truly enjoyed being here with you today….thank you, Jenny, for the invitation! And please, stop by and tailgate with me in Instagram, Twitter , and of course on Facebook! Tailgating is so much more fun with friends. 🙂
Game On! Heather