Spice up family dinner conversation with Would You Rather for Kids! This kid-friendly version of the Would you rather... question game is a great way to get the kids talking, plus gives them a chance to use their imaginations!

Hi there! It's Kelly from Typically Simple and I'm excited to be back sharing another fun printable idea! Family dinners have always been a huge part of my life. Every night as a kid, we'd all sit down for dinner together and talk about our days. Even when my brother and I would come home from college, we'd still all sit around the table and enjoy dinner together.
And now as a little family of three, we eat dinner at the table every night. Although the past few years have mostly been spent negotiating how many more bites or explaining that a bowl of ice cream is not a healthy choice for dinner.
But now that our little guy is more talkative about his day, I'm always looking for more ways to get him involved in the conversation that isn't just asking him about what he did at school. This would you rather for kids is a great way to get the kids chatting!
Plus it's super easy to put together with the exclusive Would You Rather for Kids printable!

Would You Rather for Kids: Supply List
scissors
empty jar
washi tape, ribbon, other embellishments (optional)
Would You Rather for Kids Tutorial
Print the Would You Rather printables.
Cut out each rectangle with a question to create question cards.
Decorate an empty jar using washi tape, ribbon, glitter glue
Fill the jar with questions.
Place on the dinner table and have everyone take turns pulling out a question to answer.
Would You Rather for Kids Tips & Ideas
Print on card stock or laminate to make the cards sturdier for little hands.
Hole punch the cards in one corner and use a binder ring to create questions on the go - perfect for car trips or while waiting at appointments.
Ask the kids "why" after they give an answer to help them expand on their ideas.
Use the blank cards to create your own questions together as a family!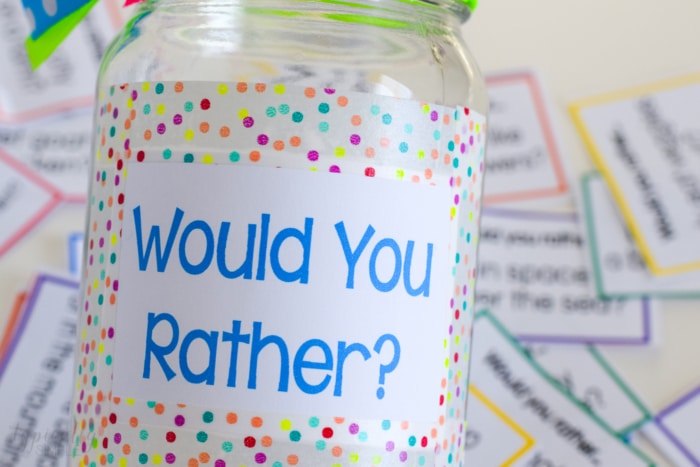 Would You Rather for kids is not only fun to play as a family, but also a great way for teachers to get their students talking and discussing their ideas in the classroom. Use the cards for classroom icebreakers, writing prompts, or just a fun 5 minute brain break activity!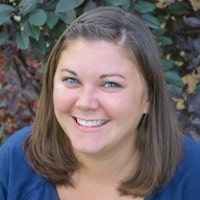 Kelly Meier shares creative inspiration for crafts, printables, and kids' activities on Typically Simple. Kelly is a former teacher, now stay-at-home mom and a lover of all things chocolate, grande lattes, and the great outdoors...minus the bugs.
Connect with her on Pinterest | Facebook | Instagram | Twitter
If you liked this Would you rather for kids activity you might also like….
From left to right: Scratch & Sniff Painting, 2 Ingredient Homemade Playdough & Family Dinner Conversation Starters.
Use those Fidget Spinner to Get their Kids to Move their Butts - Thriving on Paleo
Hidden Letters & Numbers Printable - Typically Simple