The cold, winter months call for some comfort food. Especially, when it's been downright frigid throughout the country. Luckily, taco night will take on a whole new level of comfort with this easy and delicious Chicken Taco Soup.
Chicken Taco Soup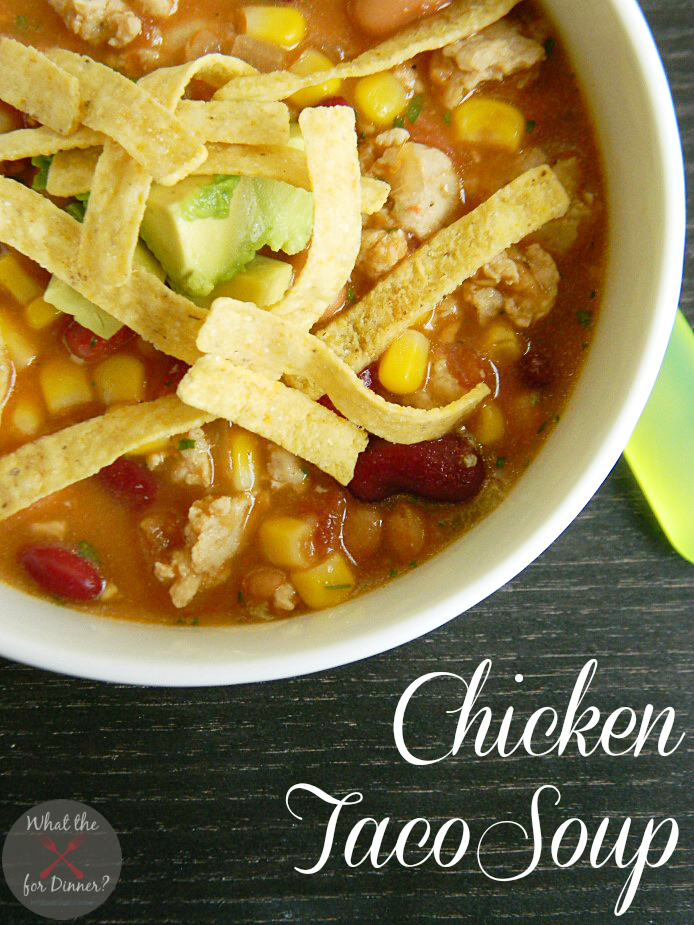 Who doesn't love a big bowl of hot, hearty soup? It's pretty much the perfect comfort food, right?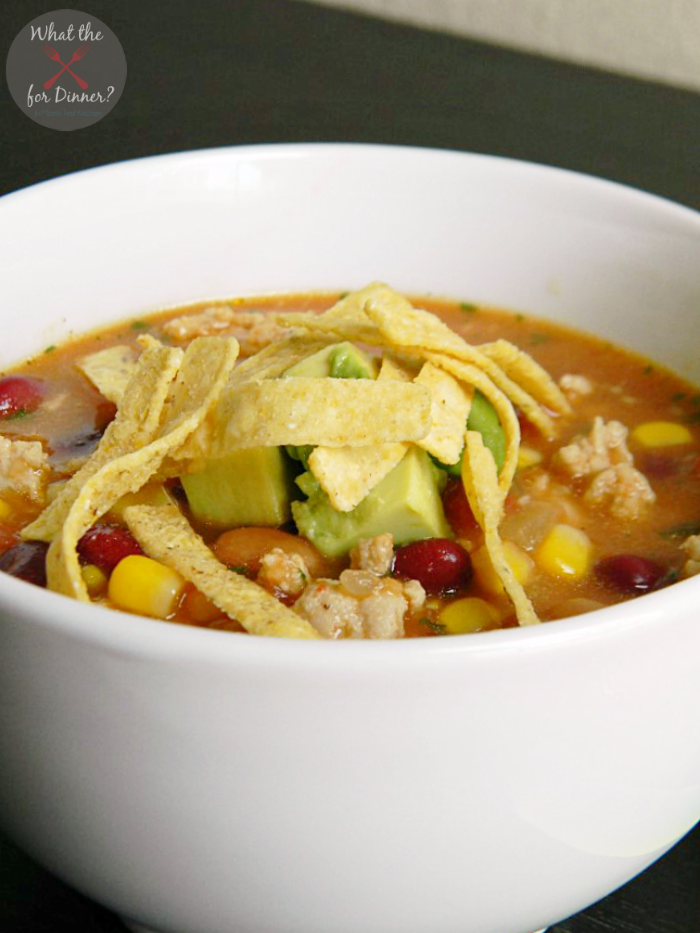 When it gets as cold as it's been lately, we practically survive on soup! The Hubs loves to hear that we are having some sort of soup for dinner when he gets home on these freezing days we've been having! We love to curl up on the sofa with a big bowl of hot soup and just have a nice relaxing evening.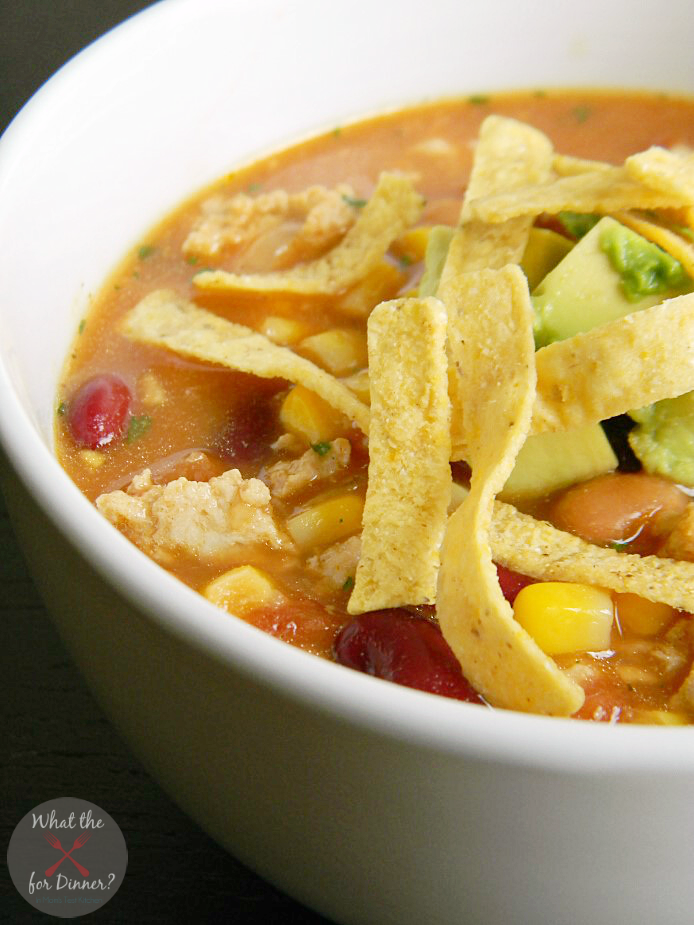 This Chicken Taco Soup is one of our family's favorite soup recipes! It's very easy to make, coming together in under 45 minutes. It doesn't require an insane amount of ingredients and it's customizable to fit our tastes! If you'd rather have Taco Soup with beef instead of chicken - just switch out the meats (and the broth! Beef broth would probably taste better than chicken!) Leave out the beans if you're not a fan or switch out to a different kind of bean that your family enjoys. Throw in some extra veggies or even leave out the meat to make it a Veggie Taco Soup! Add some cheese or sour cream to the toppings for an extra burst of flavor. It's so easy to make this soup your own!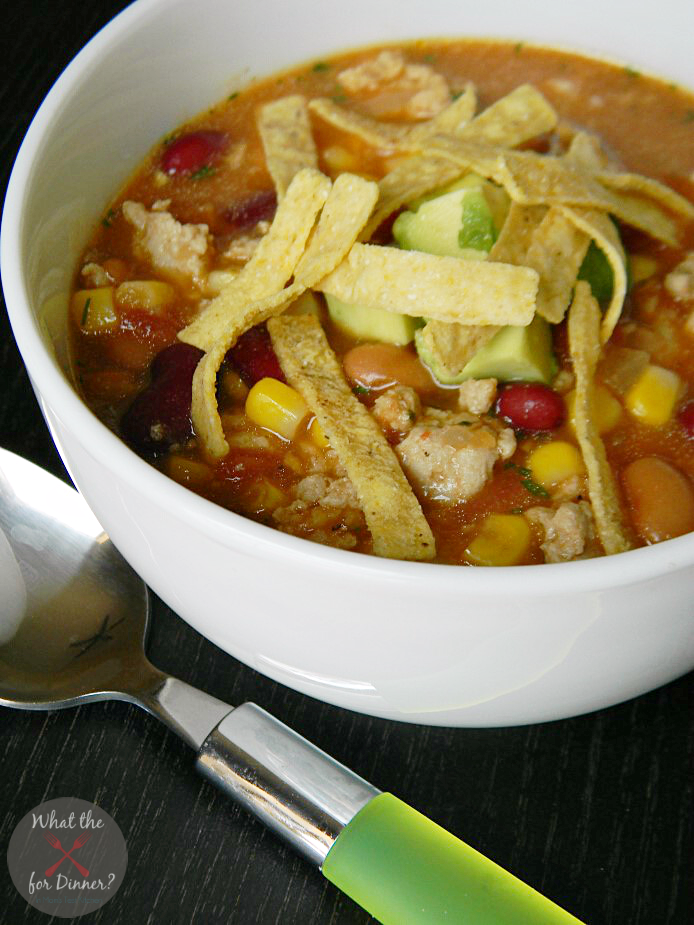 Join the 10 DAY MEAL PLANNING CHALLENGE!
Chicken Taco Soup
Author:
Prep time:
Cook time:
Total time:
The perfect comfort chicken taco soup that's ready in 45 minutes or less.
Ingredients
1 pound ground chicken
1 small sweet onion, diced
1 can (15.25 ounces) whole kernel corn, drained
1 can (14.5 ounces) diced tomatoes with jalapeno peppers, drained
1 can (15 ounces) kidney beans, drained & rinsed
1 can (15 ounces) pinto beans, drained & rinsed
1 envelope (1 ounce) ranch salad dressing & seasoning mix
1 envelope (1.5 ounces) taco seasoning
2 cups chicken broth
optional toppings - I used diced avocado & tortilla strips
Instructions
In a large skillet, cook the ground chicken & onion until no longer pink and the onion is soft & translucent; then drain.
Add the chicken & onion mix to a large stock pot. Add in the remaining ingredients (minus the toppings) and bring to a boil. Reduce the heat & simmer for 20 minutes or until heated through.
recipe inspired by: eMeals.com
Want even more soup recipes?
What's your family's favorite soup?
Jaime is a wife, mom, virtual assistant & the writer and recipe developer behind Mom's Test Kitchen, where she helps moms answer the toughest question their families could ask – "What the forks for dinner?" On the rare occasion she finds some spare time, you'll find her enjoying a movie night with her husband or making a mess in the kitchen!
Facebook//Google+// Twitter//Pinterest//Instagram